Is Trump Our Newest Web3 Builder?
Visa Building Recurring Crypto Payments | Magic Eden Rewards Program | Web3 Academy Recap
---
No time to read? Get the latest news through your favorite podcast platfrom 🎧
---
GM web3 explorers!
It's the Weekly Rollup, the newsletter that keeps you on the forefront of web3 no matter what time of year it is—and in true web3 fashion, we're ending the year with some big news. 💥
Here's what we've got for you:
Trump flips his stance on web3 by selling out a 45k NFT collection 🤔
Visa is on a mission to bring on-chain subscriptions to web3 💳
Magic Eden unveils its loyalty program and we're bullish af 🎁
Something a little different: A recap on Web3 Academy's journey and some lessons we've learned along the way 🥳
Let's dive in.
---
🤝 Together With Lens: Crypto Twitter's New Home 👀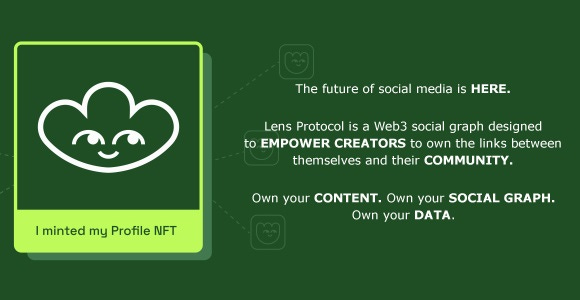 ---
AMERICA'S FIRST NFT-FRIENDLY PRESIDENT??
Trump Goes Web3 With a Bang
After calling crypto a scam saying he'd never support it, Trump drops a 45k NFT collection and mints out in the middle of a bear market, netting himself a cool six million dollars.
But the launch hasn't been without its drama.
Firstly, some on-chain sleuths discovered that Trump (or presumably the organization that orchestrated the drop) minted 1k of the NFTs for themselves. While this is standard practice, they ended up with a disproportionate number of the high-value "trading cards"—26% of the rare one-of-ones and 28% of the autographed cards.
Now, we don't know if this was done purposefully or if they just had an extremely lucky mint, but many people seem to believe it's the former.
The next topic of discussion was the collection's art. It was billed as "art based upon the life and work of Donald Trump". But get this, the trading cards featured Trump as a cowboy, a jacked Superman-esque figure, an astronaut, and many more fantastical things.
And to make things worse, a lot of the art seems to have been stolen from places, such as Shutterstock. One of the NFTs even has the company's watermark still on it according to Crypto Twitter.
This is giving us some serious Tai Lopez NFT vibes. 🤨
But, on a more positive note, the collection does provide utility in the form of a sweepstake where holders can win many access-based prizes, including dinner with the former president, Zoom meetings, and free sessions at Trump's golf courses.
It also seems that the collection has onboarded around 10,000 potentially new people to the space as they held no wrapped ETH or MATIC in their mint wallet.
But the question is, does this become the playbook for web2 folks with large followings?
From the information we currently have, we hope not as the collection strategy seems to be missing the key ingredient of web3, community engagement.
In saying that, the drop does make sense from a different lens. For example, with Trump losing his Twitter following, this NFT collection gives him a way to reconnect with his most loyal fans (we haven't seen any news about community-building initiatives yet, but he does have his Truth Social platform).
So while having a former (potentially current if he wins the next election) president with an NFT collection is positive for the space, we would've liked to see a much more intentional approach with a long-term vision.
---
DIVING STRAIGHT INTO THE WEB3 DEEP END
Visa Set to Build On-chain Subscriptions With ZK Rollups
Subscriptions were responsible for adding $650 billion to the global economy in 2020 alone, with experts forecasting this number to grow to $1.5 trillion by 2025. 🤯
That's why Visa's announcement that they plan to bring recurring payments on-chain is huge. 
Right now, setting up on-chain subscription payments is quite difficult as they have to permeate many different blockchain layers. In saying that, it's not impossible, and Unlock Protocol (one of our sponsors) is probably the furthest along with their NFT solution so shout out to them. 🥳
But the current NFT subscription model isn't native to the blockchain or a non-custodial wallet, it can be moved around. So what Visa's trying to do is actually make subscriptions a feature that exists in the wallet itself. And the way they're doing this is through account abstraction.
Account abstraction isn't a new concept as it was actually the focus of an EIP (Ethereum Improvement Proposal) around a year ago, but nothing came of it.
However, Visa ran an internal "hackathon" with one of the winning projects reviving the concept.
Now, account abstraction is where your wallet actually becomes a smart contract—typical non-custodial wallets only plug into and interact with the blockchain and smart contracts. This is an important distinction as a smart contract wallet gives you more freedom in how you structure (as a business) or use (as a consumer) subscription payments.
But one of the most interesting parts of this announcement is that Visa is building on ZK Rollups which is some of the most advanced tech in web3. So they're not just experimenting, they've jumped straight into the deep end which is a massive positive for the space. 🚀
And if Visa can get this right, we'll be able to onboard some of the biggest subscription-based companies into web3—Netflix, Amazon Prime, and Spotify are all sidelined until we can figure this out.
---
SOCIALS
Thread of the Week
---
FINALLY, SOME SUSTAINABLE INCENTIVES
Magic Eden's Take On Web3 Loyalty Programs
Last week we mentioned that Magic Eden was hinting at a new loyalty program. They've since beta launched and it's got us excited for the future of web3 rewards.
The program has five reward tiers and runs on a points system based on your buying and selling activity on Magic Eden. But the most interesting part is the economics behind ME's program. 
Rewards come in the form of loot boxes which can include anything from discounts, whitelist access, and even actual NFTs. However, these rewards aren't native to the ME platform and are instead coming from projects in the wider ecosystem.
This is vital as it helps ME avoid overinflating a native fungible token (if they were to drop one) through airdrops which ultimately lead to insane speculation and cratering prices.
Said another way, open-market assets are valued based on the number of buyers and sellers. And so the problem that we've seen so far is that if you give away too much of the same asset, supply overtakes demand, and token prices fall.
But instead of ME going down this route, it's going to give away a tiny slice of many different projects in its ecosystem.
Another point to mention is that they're rewarding buyers, sellers, and creators whereas most marketplaces typically focus solely on buyers—i.e., buy on our platform and we'll airdrop you some sweet tokens.
Instead, they're giving creators a way to market their collections through giveaways. ME also plans to share its marketplace fee (2% starting in January) with buyers and sellers with the highest rewards tiers receiving up to 45% of the fee.
So rather than putting an arbitrary amount of money in your pocket through an airdrop, they're tying it directly to the revenue you generate—like cashback rewards for a credit card.
So not only is this a way for ME to promote and support its creators while giving back to users, but it's also sustainable for the marketplace itself.
Now, one caveat is that if at any point they don't have enough new projects coming on, then they'll eventually have to give away too much of one project which could cause overinflation.
But, assuming we have many, many years of growth in the NFT space, this isn't a bridge they'll have to cross for a long time.
---
🤝 Together with Unlock Protocol: NFT Ticketing is the Future. Learn How to Easily Create and Sell NFT Tickets for Your Next Event!⚡
---
WHAT A YEAR IT HAS BEEN
Web3 Academy's Journey
Looking back at 2022, it's crazy to think that Web3 Academy hasn't even been around for a full 12 months yet since there has been so much happening in the space. It feels like time truly does flow differently in web3.
After an action-packed year, we wanted to give you, our web3 DOers, a recap of our journey and the lessons we've learned along the way so that you can start 2023 with a bang.
If you're new to web3, we launched the podcast on February 27th, the day that Russia decided to invade Ukraine. It wasn't ideal by any means, but we kept building and decided to launch a newsletter just a month later.
After three months of newsletters and podcasts, we wanted to get to know our audience better because we had no idea who was listening to our stuff, nor were we able to talk with them.
So we followed the web3 playbook of building a Discord community. That was probably one of the coolest things we did because we got to understand you and other DOers on a deeper level.
Fast forward to today and we now have around 25,000 downloads a month—we were even in the top 5% of podcasts on Spotify! We've also hit over 6,000 newsletter subscribers and our Twitter went from non-existent to almost 10k followers in that time.
But the best part is that we've been able to meet so many great people and learn a ton along the way.
We also can't forget our sponsors, Lens and Unlock, who helped us not only learn more about web3 but gave us some extra runway to expand and improve the content we create.
We couldn't have done it without any of you—especially in the middle of a bear market. 🙏
Now, after reflecting on our journey so far, there are three lessons that we want to share with you to say thanks.
The first lesson is to start before you're ready. Before Web3 Academy, Kyle was the only one with podcasting experience. In fact, Jay was always so nervous that he'd have butterflies before every single show.
Whatever you do, you'll never have the perfect website, the perfect answers, or the perfect product—especially not in the beginning. So don't waste time agonizing over brand colors and logos. Instead, keep it simple, go to market sooner, and get community feedback because that's how you learn the most. ✅
Over the past year, we've significantly changed our branding, newsletter, and the way we produce content, so don't think your business decisions are set in stone!
The next lesson we learned is that consistency is vital. We've produced three podcasts per week for just under a year and we believe it has been a big part of our success.
Don't get us wrong, it hasn't been easy. There are always times when you're exhausted and you're trying to do your best and it feels like nothing is flowing smoothly, but those are the times you need to push through. Not only will consistency ensure you learn faster, but it also ensures that you're making progress each and every day.
Remember, you don't have to be an expert from the beginning. As long as you commit to showing up consistently, you're bound to become one along the way.
But there is one thing that we wish we were better at, and that's building community. 👯
Truth be told, our community-building strategies were accidental. Everyone was talking about community so we just decided to start a Discord and it grew organically from there—we've even spun a budding DAO out of that community.
But a vital lesson we learned during the process is that intentionality beats scale. At one point we simply had way too many different people in our Discord that had different goals and needs.
So one thing we would have done differently is closed the community and built a more stringent onboarding process where we got to know members, ensuring they're aligned with our values before allowing them in our Discord.
But looking towards 2023, we're extremely bullish on web3 and our fellow DOers. 📈
While mainstream media paints web3 as a fad, major brands (Starbucks, Reddit, Nike, etc.) have joined the space, offering real utility to their communities. We're also seeing more and more high-profile talent join web3, and seeing innovations that we could never have dreamt of in past years.
In particular, one of the things we're most excited about is that we don't have to speculate on what does and doesn't work anymore. Now that major brands are more active in web3, we can simply look on-chain and analyze the data for you. We can tell you precisely what is and isn't working.
That's why we're super excited about the launch of Web3 Academy PRO, our on-chain analysis series that will dive deep into the best businesses, concepts, and business models in web3—no guesswork necessary.
👉 We're planning to launch PRO in early January with a significant discount for the first 100 DOers to join, so make sure you watch this space. 😉
Here's to another year of building. 🥂
---
NUMBERS TO KNOW
$39,000,000,000
That's how much revenue PitchBook estimates web3 content platforms will generate in 2027. Source
8
That's how many dollars you have to pay to post links to other social platforms on Twitter. Source
120,000
That's how many developers have enrolled in web3 ed-tech platform Metaschool. Source
---
AROUND WEB3
Other Web3 News
---
FOR THE DOERS
Take Action & Level Up
JOIN
Head over to the Web3 Explorers Club to join the last few weeks of our community-cultivated mastermind!
LEARN
Take our FREE Web3 Rabbit Hole Course to get up-to-speed on the foundational components of Web3 so you can confidently build, work, or use the fastest-growing technology in history