Apple to Backtrack on NFT Block?
Starbucks Odyssey Beta Launch | Music NFTs Are Having a Moment
---
Tune into the podcast to get low down on Yuga Labs, Magic Eden, and more 👀
---
GM web3 explorers!
We're back with another episode of the Weekly Rollup, the newsletter that keeps you on top of the latest news and trends in web3.
Even though it's the holiday season, web3 isn't slowing down and neither are we.
Here's what we've got for you today:
Starbucks is beta testing its much-awaited NFT loyalty program 🤩
The EU says no to Apple blocking in-app token transfers ❌
Is music the next industry to go web3? 🎵
DAO of the Month. Hint: they're the top education DAO in web3 📚
Let's dive in.
---
🤝 Together With Lens: The Evolution of Social Networking 👀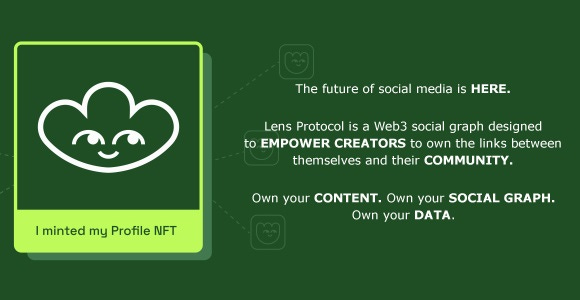 ---
ITS TIME FOR A JOURNEY
Starbucks Launches Its NFT Loyalty Program
The coffee giant recently beta launched its loyalty program—Starbucks Odyssey—for US participants.
In a nutshell, it's an extension of their current rewards program which will allow users to participate in interactive challenges which Starbucks calls Journeys. After each completion, users receive Journey Stamps (aka NFTs) which they can redeem for experiences and merchandise.
One of the highlights is being able to redeem Journey Stamps for a flight to Costa Rica where you can visit a local coffee plantation and experience where Starbucks' coffee actually comes from.
How's that for community engagement? 🎉
In general, though, loyalty programs are an excellent use of web3 technology with the biggest unlock being transferability.
Starbucks will allow users to trade their points through the in-app marketplace, meaning users can buy and sell Journey Stamps depending on whether they want to redeem the stamps for prizes or they'd prefer something else.
And if the company's metrics are anything to go by, this will be even bigger than Reddit's collectible avatars.
While we don't know the exact numbers, Insider Intelligence estimates that 31 million Americans use the current app. That's more than Google or Samsung's payment services and only second to Apple Pay.
Just think of how many people use the Starbucks app worldwide. 🤯
One thing to note is that, if you signed up for the beta test and you get an acceptance email, you only have three days to set up your account. So keep your eyes peeled!
But what's really cool is that, when the Starbucks Odyssey goes live to more people, we can simply look at on-chain data to figure out how the program is performing—no more relying on third-party data or having to trust journalists.
Instead, we can just go on-chain, look at their smart contract address, and we can see how many people are buying, selling, trading, etc.
In fact, Kyle's been diving deep into on-chain analysis lately to prepare for our upcoming product, Web3 Academy PRO. We've kept it pretty quiet, but since we're launching it in a few weeks, we thought we'd give our Rollup fans the first heads-up.
We're going to create in-depth weekly reports on which businesses, business models, and web3 concepts are winning. If you thought our Deep Dives were detailed, our PRO reports are going even deeper with the power of on-chain analysis.
👉 P.S. We'll also be running a special deal for the first 100 people to join, so watch this space. 😉
---
THE WEB3 MOBILE BATTLE CONTINUES
EU Legislation to Break Apple's Monopoly?
To recap, last week Coinbase took to Twitter to vent its frustration about Apple preventing in-app NFT transfers.
The exchange said that Apple would only allow transfers if it got its standard 30% cut of the fees. The only problem is that it's impossible to give Apple 30% of Ethereum's gas fee because it's a base layer technology. Think of it like Apple wanting a cut out of Mastercard or Visa's transaction fees.
But Bloomberg recently shared news that Apple may be forced to allow users to download apps from outside its native store thanks to new EU legislation, meaning apps would be able to circumvent Apple's in-app purchase policies.
The new legislation is called the European Union's Digital Markets Act and it attempts to prevent companies from monopolizing the digital space.
Tech companies will have until 2024 to fully comply with the new restrictions with Apple reportedly aiming to launch the feature in its iOS 17 software update—around the fall of 2023.
Now, what's really interesting is that this might be the big break web3 was looking for.
If all goes well, web3 devs don't have to worry about Apple's 30% fee, the App Store's current tech stack, or complying with the tech giant's tight usage policies.
But where does Apple go from here?
On one hand, they have to comply with EU laws if they want to participate in that local economy. But we think they'll find some workaround to keep most people in their App Store ecosystem. This could look like lower fees, more relaxed usage policies, or even web3 integrations.
But in other markets, like the US, we think they'll delay any changes until local governments pass the relevant legislation.
After all, why would they give up their 30% cut of all in-app transactions if they don't have to?
We can't really predict what the company will do, but chances are that Apple's giga brains will figure out a workaround that benefits the tech giant.
---
SOCIALS
Thread of the Week
---
NEXT STOP: MUSIC NFTS
Are Music NFTs the Next Big Unlock?
So we're obviously in a bear market right now. Everything looks grim, everything's collapsing, and crypto is dead (or so people like to think).
But there's always a bull market somewhere and it's happening in music NFTs right now.
Just take a look at that beautiful red line on the graph below and you'll see what we mean.
What you're looking at is data for new mints of music NFTs on Sound.xyz which is probably the biggest music-focused NFT marketplace right now.
The industry has been in a nice steady uptrend since Dec 2021, but in the last few months, activity has exploded. October 2022 saw new mints almost triple with November doubling yet again. And now we're just halfway through the month and December has almost reached new highs!
If this trend continues, then we're looking at a lot of mints going on in early 2023 and a ton of amazing growth.
But this momentum begs a few questions. Are these free mints or paid? Are these paid mints? Is this about to become a new sustainable revenue stream for artists?
Well, we're going to cover all that and more in one of the first Web3 Academy PRO reports on music NFTs. 😉
Regardless, music NFTs bring back the chance for fans to actually collect music rather than "lease" it from Spotify and other streaming apps, something that was popular in the time of CDs and records.
Tokenized music also provides greater interoperability, meaning we could share our favorite music on TikTok, Instagram, or a web3-native app, allowing our followers to easily listen, buy, or save the track.
Not only is it a better experience for fans, but it's also better for artists as well. Right now, the music industry is struggling. Even though we have access to more music than ever thanks to Spotify, artists (and even the streaming giant itself) aren't very profitable.
In fact, roughly almost 70% of all industry revenue goes to just a few large companies, including Warner Bros., Sony, and Universal.
And while we're seeing growth on Sound, that's only from independent artists and it's in an environment where it's extremely difficult to use and find Music NFTs.
Jay was even looking to buy a music NFT for our podcast, but the UX was so bad that we didn't end up getting one. 😥
But the good news is that Winamp is making a comeback to change that.
If you don't remember, it was one of the original PC audio applications from back in the nineties. However, they recently announced that they added media NFT functionality for both Ethereum and Polygon tokens to their application.
All you need to do is link your MetaMask wallet via Brave, Chrome, or Firefox, and you're good to go!
This solves the biggest issue of music NFTs: where can I listen to and collect my music?
But it's still early days and music NFTs aren't as ubiquitous as they will be in the coming years, so now's the perfect time to dive deeper into the industry.
In fact, we've actually got a DOer Spotlight coming up with Austin from One Big Idea where we'll chat about all things music NFTs. So stay tuned for that one!
Overall, music NFTs are still very niche, but there's a lot happening so we believe that 2023 could shape up to be The Year of Music NFTs.
---
🤝 Together with Unlock Protocol: Create Memberships and Subscription NFTs in Minutes!
---
DAO OF THE MONTH
Ed3 DAO: Bringing Education Into the 21st Century
This week it's DAO of the Month and competition was neck and neck between the Ed3, Orange, ATX, and Web3 Academy DAOs.
But after a final push from its community, Ed3 DAO managed to take out the top spot with 54% of the votes. 🥳
It's exciting for Ed3 DAO to get some recognition on the podcast because they're tackling a vital global issue—education and on-chain credentials.
While it's still early days, Ed3 DAO has some cool things going on:
They have a token-gated Discord which gives you access to the community and weekly educational calls. You can mint an Ed3 NFT for 0.1 ETH with crypto or the equivalent fiat amount through a credit card.
They have several Ed3 certifications which teach you about web3 and provide a verifiable on-chain credential. Some upcoming topics include the metaverse, NFTs, and tokenomics.
They also have their annual Ed3 Unconference where they bring together educators from all around the world to talk about blockchain and the impact that blockchain will have in the education space.
In particular, we're excited about their push for on-chain credentialling because blockchain can significantly increase the efficiency of distribution and verification.
Right now, if you graduate from university or take an online course, there's no easy way to verify completion—it's all manual. You have to go back and forth with the issuing organization, pay an admin fee, and likely wait a few weeks to receive your certificate (and that's in the best circumstances).
But for people in developing countries, navigating this process is much more difficult. It often takes months or even years to receive credentials because of poor administrative processes.
So what Ed3 DAO is working on can bring significant value to people around the world.
If you want to dive deeper into what Ed3 DAO is doing, Jay recently chatted with Vriti Saraf, one of the co-founders of the DAO. Check it out here: 3 Ways Web3 Will Transform Education.
---
NUMBERS TO KNOW
$4,000,000
That's how much artists have earned from music NFTs on Sound so far. Source
95
That's how many pages the class action lawsuit that's been filed against Yuga Labs and co. contains. Source
5,000,000
That's how many Reddit Collectible Avatars have been minted so far. Source
---
AROUND WEB3
Other Web3 News
---
FOR THE DOERS
Take Action & Level Up
JOIN
Head over to the Web3 Explorers Club to join the last few weeks of our community-cultivated mastermind!
LEARN
Take our FREE Web3 Rabbit Hole Course to get up-to-speed on the foundational components of Web3 so you can confidently build, work, or use the fastest growing technology in history