Web3 Academy's Top Predictions for 2023
Are we bullish or bearish? There's only one way to find out
---
No time to read? Get Web3 Academy's top predictions for 2023 through your favorite podcast platform 👇
---
GM web3 explorers!
2022 brought us events that no one could have predicted:
Do Kwon's ego lead to Terra Luna's demise 📉
The (potential) death of royalties as a business model ⚰️
SBFs downfall from crypto messiah to backdoor bandit 💥
Reddit onboarding the most web3 users to date 📈
3AC betting the farm on volatile assets and getting rekt 👊
Or could they?
For this week's Deep Dive, the Web3 Academy team decided to gaze into our crystal balls to do just that.
While no one can predict what will happen in a year—especially in this crazy space—below we are to share what each member of the Web3 Academy team is keeping their eye on in the coming year. 👀
We'll be surprised if any of it comes true but the five of us live and breathe web3. We study the markets, the businesses, and the trends every day so we can provide YOU with the most relevant information possible.
Our focus is to guide you through the journey of web3. All that to say, we know a thing or two about web3. 🤝
So without further ado, here are our top predictions for 2023!
---
🤝 Together With Lens: The Evolution of Social Networking 👀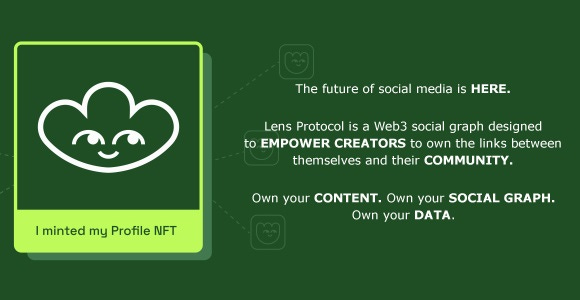 ---
Kyle Reidhead – Founder and Our Very Own Web3 Celebrity
NFT utility > speculation: NFT dollar-denominated trading volume doesn't reach 50% of its all-time high from the bull market. However, I believe the number of NFTs minted/transacted skyrockets to ATHs and beyond.
The US approves regulation for stablecoins: The USA does this because it allows the US dollar to be used on global crypto rails, enabling it to more easily flow and be used around the world. I also believe no other crypto/web3 regulation is approved in 2023.
Reddit onboards 50 million people into web3: They have already onboarded about 4 million people in 2022. So when they launch community tokens and more NFT avatars and related collectibles, I think Reddit users flood into the space.
The biggest brands go web3: Amazon launches an NFT marketplace with an Amazon native wallet and Apple launches a crypto wallet inside of the Apple Wallet—which I hope are both non-custodial wallets.
IRL adoption: A small country adopts blockchain tech (likely with Zero-Knowledge Proofs) for some form of identity/voting purposes with their citizens. If I were a betting man I'd say it happens on Polygon.
Twitter moves towards becoming the center of social: Twitter becomes the most influential web2 social media platform AND the best social platform for creators to earn revenue. I believe in Elon's ability to build extremely effective teams and take technology to another level. This has nothing to do with web3, but it's a prediction that will impact many of us on Crypto Twitter.
Finally, some good games: A triple-A web3 game launches (on Immutable or Polygon) and onboards 10 million new wallets. I don't think this will be a play-to-earn incentive scenario like Axie in 2021, but instead just a really good game that may include some tokenomics to earn.
Lens Protocol surpasses 1 million active users: They're currently in closed beta, but my assumption is they launch publicly in 2023, and most web3-natives flock to the platform
Web3 Academy drops some alpha: Web3 Academy PRO becomes the #1 trusted source to understand which web3 businesses, business models, and concepts will win #IFKYK. This is going to be the most valuable newsletter product in web3.
👉 P.S. The first 100 people to sign up to PRO receive 33% off FOR LIFE… so don't wait, be one of the first to go PRO (The first report launches very soon 👀)
Jay – Founder and Lord of the GMs
Zero Knowledge Proofs will be the breakout web3 tech of 2023: ZK Proofs enable one party to prove to another party that a statement is true without conveying any additional information. The use cases for this are extensive as we aim to ensure privacy while we move our identity and financial assets onto public blockchains. Right now Starkware, zkSync, Aztec, Espresso, ImmutableX, Polygon's zkEVM, and Aleo are either live on mainnet or in various stages of testnets.
Everyone will have a web3 domain name for their wallet: ENS is almost at 3m registrations, Nike's .SWOOSH is in beta, Unstoppable Domains has millions of registrations. And god knows no one is going to remember your 64-character ETH wallet address.
Starbucks Odyssey will onboard 5 million new wallets: With over 25 million users globally on the Starbucks app and their new NFT loyalty program rolling out in beta right now there are going to be a lot of happy coffee drinkers buying, trading, and selling their "digital stamps" to get a trip to a coffee plantation in Costa Rica.
Blockchain gaming will finally arrive and onboard 10's of millions: After years of development many AAA games will hit the market in 2023 and drive mainstream adoption. Driven mostly by the free-to-own model which will put free NFTs in the hands of gamers in the form of in-game items 2023 will be the year in which blockchain games finally break through.
Education will be the second largest industry after gaming to onboard millions to web3: This one may seem like a surprise because education isn't exactly known as the fastest-moving industry. But let's remember that the internet was initially adopted by universities and colleges as a means of sharing information. Now education is ready to bring credentials on-chain. In 2022 we saw a state in India issue 100,000 verifiable diplomas on-chain. In 2023 this number will grow to millions.
Regulation is coming and it's a good thing: I honestly have no idea when regulation will come so this prediction is more of a manifestation because I strongly believe that we need regulation. Too many enterprises are waiting on the sidelines because regulators are dragging their feet and acting reactively rather than proactively. While regulation can strangle innovation it can also be an accelerator as it opens the door for so many to join the party.
The best UX will be on wallet hardware: We say it all the time. The UX of web3 sucks. You're blind signing these ridiculous requests in MetaMask without fully understanding what's happening and just hoping and praying your assets don't vanish into thin air. Wallet hardware has the ability to change that as they integrate end-to-end solutions for managing your crypto assets. This prediction might be more than a year away but the new Ledger Stax got me excited! Just imagine dApps becoming available in your hardware wallet!
Large corporations will start experimenting with DAOs: DAOs enable human coordination on a scale we've never seen before. Imagine a large corporation launching an internal DAO where all their employees get to govern and manage their charitable endeavors. We saw ConsenSys do exactly that in 2022. Or imagine a large corporation launching a DAO of its users or fans focused on improving a particular product or providing better customer support. The possibilities are endless when you have an engaged audience and a clear purpose.
1 million marketplaces: As the royalty debate rages on it's clear to me that the question is not whether or not we'll have royalties. The question is where people will purchase digital assets. Just like for physical assets we have millions of IRL and URL retailers with some selling a specific niche of products and others, like Amazon, selling everything—the same will be true for digital assets.
Web3 social goes exponential & Elon shocks us all: We've all been talking a lot about web3 social but the numbers show that adoption is still quite small. That will all change in 2023 as hundreds of web3 social apps go to market and a few reach mass adoption. I have no idea what Elon will do but how could I have a 2023 prediction that didn't include him doing something crazy?!
Final quick thoughts:

Governments will sadly lag behind despite the massive potential for improving voting.
Wallet-to-wallet messaging will arrive in 2023.
Market volatility will remain a constant through 2023 requiring web3 companies to learn to navigate asset price uncertainty while they're building.
Developers will flock to layer 2 blockchains as they offer decentralized security, fast transactions, and the lowest fees.
Music will continue its consistent growth into web3 but mass adoption won't happen for another year.
---
🤝 Together with Unlock Protocol: NFT Ticketing is the Future. Learn How to Easily Create and Sell NFT Tickets for Your Next Event!⚡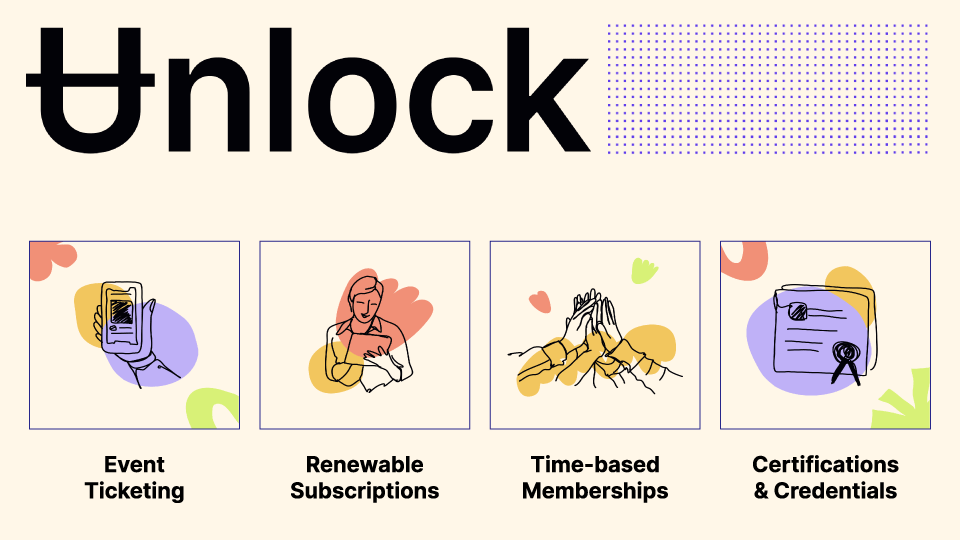 ---
Raul – Web3 Academy's Social Shitposter
Exponentially more web2 executives will join web3 companies: We already have Andrew Saunders who opted for OffChain Labs (Arbitrum) after working for the biggest web2 companies. More recently, we've seen Keith Grossman from TIME move over to MoonPay. I expect this to continue. Once these people understand the power & potential of web3, they'll be keen to be part of the group that's already building!
On-chain NFTs: More NFT collections will move towards having more of their metadata on-chain. Whether that's a move over to IPFS or other alternatives remains to be seen. But one thing is for sure… This is a problem that needs to be fixed (right now collection owners have the ability to change the metadata of the NFTs they've created). And I think 2023 will be the year that a solution is found.
2023 = the year of crypto hardware: Most crypto/web3 hardware will be built, announced, and released in the coming year. Examples are Solana Phone, Ledger Stax, etc.
The death of NFTs as we know it: People will stop trading NFTs and most collections will die because they were built with empty promises. Meanwhile, NFTs will be heavily used in protocols such as Lens or to token gate access to communities, products, etc.
ETH supremacy: A couple of layer 1 blockchains will merge to become L2s on Ethereum. Likewise, there won't be any new layer 1 blockchains that get significant attention.
Layer 3s: We will be introduced to layer 3 scaling (or maybe there'll be another name for that), aka a way for users to use blockchains without signing transactions or paying gas.
DeFi protocols will continue performing: The majority of DeFi protocols functioned as they should have in 2022. I think this trend will continue, forcing recognition from TradFi and mainstream users (i.e., speculators, investors, etc.).
The death of DAOs: The idea of DAOs as we know them will be abandoned as people realize that building a company with inexperienced internet strangers is extremely difficult. However, DAOs may be useful when used alongside companies rather than being the company itself.
Bear market blues: The bear market will last throughout 2023 but the level of adoption and number of people interacting with crypto and web3 will be unexpectedly high.
Number doesn't always go up: People will wake up to the fact that most tokens have awful tokenomics and investing in a token doesn't necessarily give you exposure to the growth of the project.
Myles – Web3 Academy's Content Researcher and Writer
The bear continues: 2023 will be another builder-centric year because of the ongoing uncertainty around global markets and a potential recession (see yield curve inversion). Keep building, learning, and staying up to date with web3 so you can reap the rewards when the global situation turns around.
NFT tech is just getting started: I think that 2023 will have a renewed focus on NFT technology (rather than speculation) because of its numerous use cases. We're only just beginning to scratch the surface of dynamic NFTs, rental NFTs, PBTs, NFTs as memberships, and much, much more. These token standards can revolutionize commerce and break down the walls between the digital and physical worlds.
AAA gaming time: Web3 gaming will be massive. Right now, devs are still figuring out the best ways to incorporate web3 into traditional games. Some are slowly integrating web3 while others are building their games natively. I'm not sure which strategy is better, but I think 2023 will be the year of high-quality crypto gaming (sorry Axie).
Starbucks becomes the web3 darling: Starbucks and its on-chain loyalty program will onboard the most people into web3 (whether users know they're in web3 or not). Active Starbucks Rewards memberships increased to over 27 million with the app recently growing by 3.2 million members, equating to +13% year-over-year growth.
On-chain royalties are back: Between OpenSea's "Operator Filter Registry" and new token standards being built, I believe that royalties will again be guaranteed for creators. But that doesn't mean it should be your main source of revenue!
Tech evangelism dies: Right now, many people are diehard fans of certain protocols, token standards, and foundational technologies—it's kind of like being a fan of internet protocols lol. But as the innovations continue and the space grows, I believe that people will see that there any many different ways to achieve the same outcome.
Regulation is coming: 2021 and 2022 seem to have been years of observation and planning. But since the space is undeniably here to stay and we've had some serious recent implosions (FTX, 3AC, etc.), I believe regulation from at least a few major countries will come in 2023.
Polygon becomes the 6th largest cryptocurrency by market cap: There are sooooo many things happening on Polygon from big brands dropping NFT collections to countries putting credentials and documents on the blockchain.
I retire: Arbitrum releases their anticipated native token and I retire thanks to my degen activities.
---
SOCIALS
Meme of the Week
---
Tyler – Web3 Academy's Video Editor and Branding Extraordinaire
Decentralized social media is a household term: Twitter goes web3 and throws censorship and bots to the curb, sparking conversation and awareness around web3-native social protocols like Lens and Orb.
All the monkeys die: More of a hope than a prediction but all these expensive monkey NFTs (and any other useless PFPs) get forgotten in 2023 and the era of utility-focused "digital collectibles" begins.
Decentralized gaming…. makes no moves: At one point I got so caught up in the hype of all these games (like Axie Infinity, Star Atlas, Illuvium, etc.) and while I still think some will be hella dope, they're so far away from creating a AAA decentralized and interoperable experience.
AI takes a hit: AI is all anyone is talking about right now but just like how CeFi made 90% of the world hate crypto in 2022, I think some government or company takes advantage of the technology and causes a short-term loss of faith in AI with the general public.
Web3 Academy wins a podcast award: I don't know if there are podcast awards or not but picture this: it's November 2023, and Web3 Academy wins the award for the best-produced podcast. Unfortunately, I'm not able to make it to accept the award though because I'm surfing a private wave somewhere in the Maldives. Life is good.
What Are Your Web3 Predictions for 2023?
Here at Web3 Academy, our goal is to serve you the latest web3 lessons, news, trends, and everything else happening in the space.
That's why we want to know what you are thinking will happen in 2023. Do you think AI will aid web3 adoption? Will 2023 be the year of crypto regulation? Is decentralized gaming the next big thing?
We'd love to know your predictions, so if you're reading this in email, hit that reply button. Otherwise, comment below. 👇
Bonus points if you tell us your favorite predictions from this post!
---
FOR THE DOERS
Take Action & Level Up
LEARN
Take our FREE Web3 Rabbit Hole Course to get up-to-speed on the foundational components of Web3 so you can confidently build, work, or use the fastest growing technology in history.
WATCH
Get the low down on web3 gaming with web3's decentralized Nintendo: TreasureDAO!