$BLUR Drops & Traders Make Millions
Veefriends Burn Island | Super Bowl NFT Commercial Fail | Shopify Goes Web3
---
Prefer listening? Get the latest news through your favorite platform 👇
GM DOers!
It's the Weekly Rollup, the place where we present you with the best Super Bowl ads ever.
No? Well, how am I supposed to know? I'm just a fill-in writer until we get our expert on the team.
Are you that person? Then apply away and let's get you on!
Here's what we're serving in this week's hot-off-the-press Rollup:
Chart of the week: which uncovers an on-chain bull run during this bear market 🚀
The long-awaited $BLUR Airdrop rewarded somebody with $1.8M USD 🤯
VeeFriends bring the fire with their Burn Island 🔥
The only web3 ad in the Super Bowl SUCKED 🤮
Let's move 👇
---
👉 Brought to You by Lens: The Future of Social Networking 👀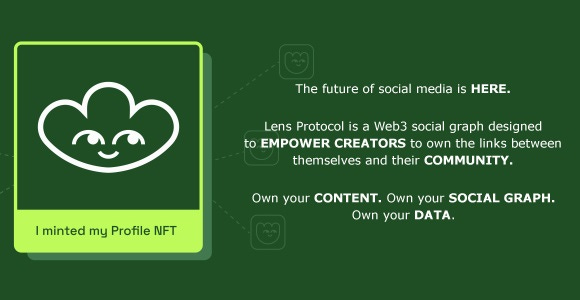 ---
CHART OF THE WEEK
Ethereum Is In An On-Chain Bull Market
Don't believe us?
Just look at the chart below. ETH is at all time highs in terms of weekly transactions (and other metrics too).
If you're confused about why we included Arbitrum & Optimism txs below, let us explain.
Ethereum is now a modular blockchain rather than a monolithic blockchain.
What this means is that Ethereum now executes transactions across multiple blockchains (layer 2s) within its ecosystem, while still settling those transactions on Ethereum.
That means that when we now want to look on-chain, we must include ETH's layer 2 blockchains – such as Arbitrum & Optimism. Not to mention Polygon which isn't in the chart above but when added makes it go exponential.
In the last 6 months, Ethereum is pushing all-time highs in transactions, higher than during the bull market of 2020-21. And this is without gas fees significantly increasing!
Why does this matter? Is the growth coming from Tokens, NFTs, Smart Contracts or something else? What does it all mean for the future of Ethereum?
Let's get into the news, but don't ever forget to 👀🔛⛓️
---
HEY MOM, I'M RICH
$BLUR Airdrop
The long-awaited $BLUR airdrop is here. 🎈
For context, BLUR is a low-fee NFT marketplace that makes royalties optional. Therefore, their strategy thus far has been to target pro NFT traders.
Over the past few months, BLUR has gained a lot of attention as traders flocked the marketplace in the hopes of receiving an airdrop.
As expected, the entire airdrop process hasn't gone particularly smooth as BLUR has seen a lot of wash trading from traders whose sole mission was to farm $BLUR tokens.
Despite that, BLUR users seem to be satisfied with the airdrop as most received tokens worth well in the thousands of $$$ while one stand-out trader received a whopping $3.2M in Blur tokens which were trading at $0.60 USD following the airdrop.
Not bad for trading JPEGS online, ey?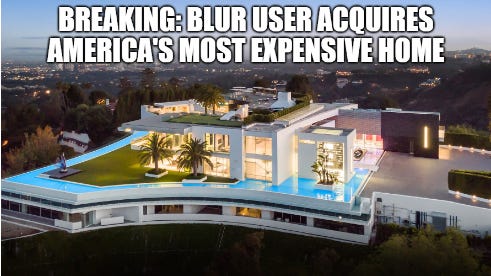 Note: If you live in America, you can thank the SEC for protecting you from this airdrop, which you're not allowed to claim. PRO tip though, use a VPN and thank us later. 🙂
To wrap this story up, keep in mind that BLUR is initiating this airdrop in different so-called 'seasons'. This was solely season 1 so we're expecting another airdrop further down the line.
If you want to hear our thoughts about the sustainability of this recurring airdrop, make sure you tune in on the pod! 
---
A DEFLATIONARY MECHANISM FOR NFTs
VeeFriends Burn Island 
Hold onto your butts because this story is fire! 🔥
Actually, it's not that dramatic. It's just that VeeFriends announced Burn Island, an NFT burning mechanism that rewards users with:
Physical items
Exclusive access to events
Other rare & limited edition NFTs
…if they burn NFTs on the VeeFriends smart contract. These include VeeFriends series 1, VeeFriends 2, Mini Drops, Book Games & Iconics. 
Anyone can burn ANY NFTs, however, only those who burn VeeFriends-smart-contract-based JPEGS can win. So if you hold any Moonbirds / Bored Apes, please don't burn them.
With all that said, we do think this is an exciting step for VeeFriends. They will create great experiences, they'll provide ownership to their community and they'll lower the supply of their assets, making it more scarce.
That's the idea anyway. And that's what every NFT brand should aim for.
---
SOCIALS
Thread of the Week
---
A $6,500,000 FAIL
The Worst Super Bowl Commercial of All Time
And the worst Super Bowl ad goes to… Limit Break!
While aiming to break all limits by being the only crypto / web3 company to run a Super Bowl ad, Limit Break – and their founder, Gabriel Leydon – only managed to break their reputation.
Context: Limit Break is a web3 gaming company founded by Gabriel Leydon, which aims to build, well, games. Their biggest creation thus far has been Digidaigaku – a game with NFT characters that's still under development – which Limit Break tried to market during the Super Bowl.
But it went horribly wrong.
Let us walk you through the playbook of how to NOT onboard people into web3!
First of all… The ad. It was bad on so many levels. If you haven't watched it yet, you can do so here. However, all you need to know about this ad is that it was a QR code with a bunch of random characters around it, saying SCAN NOW!
While the QR code was supposed to take you to a free NFT mint (which most people don't even know what that means), it took you to Gabriel Leydon's Twitter.
Why? Because Gabriel leaked the minting link before the ad aired in front of 110M+ people. So this free mint sold out & the millions of people who scanned the QR code didn't even get a chance.
Well, they did… Because on Leydon's Twitter, you supposedly had another chance of qualifying for a free mint, by clicking on a sketchy link from a tweet with ALL CAPS.
And when we tried to register, it simply asked to connect an address, sign a transaction & follow Gabe on Twitter.
That made us realize that the entire goal of this campaign was to acquire some Twitter followers (a few hundred thousand), by paying $6.5M for a 30 second Super Bowl ad.
That's not even the worst part… Because this entire campaign gave the opportunity to scammers across Twitter to start running ads with fake links. And sadly, many – especially those who just started to sniff around in web3 – got their wallets drained.
When we asked what they're doing about this situation – we expected at least a comment – they went ghost.
So, to summarize, Limit Break managed to pay $6.5M to run a crappy ad, which sent people to their founders' Twitter & got the majority of people either confused or scammed. 
Is this the playbook of how NOT to onboard people into web3? You tell us…
---
🤝 Together with Kazm: The All-In-One Tool for Building a Thriving Web3 Community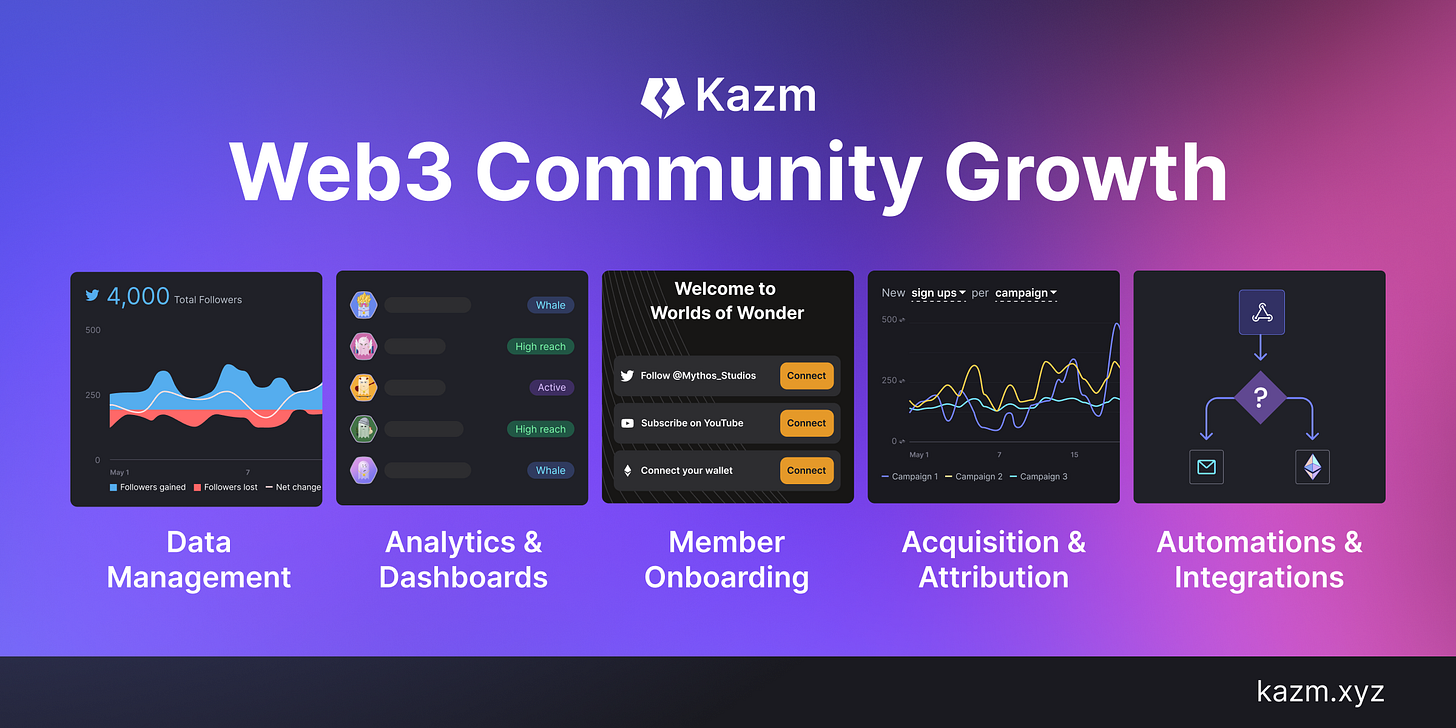 Are you building a community in web3? Then you need Kazm, the tool we use to onboard our members and launch data-driven campaigns that optimize growth and engagement.
---
NUMBERS TO KNOW
$1,000
That's how much investigative journalist Coffeezilla paid Dillon Danis — an MMA fighter that promotes NFT scams — for him to post a link exposing all of the scams he previously promoted. Give that video a watch because it's gold!
140,000
That's the amount of NFTs (Ordinals) minted on Bitcoin to date. They're really getting traction now.
$30,000,000
That's the amount the SEC fined Kraken with, for their supposedly illicit staking-as-a-service program. This caused a lot of concerns around the state of staking in the crypto industry, though most of it is overreaction.
---
AROUND WEB3
Other Web3 News
---
FOR THE DOERS
Take Action & Level Up
VERIFY
An on-chain bull run in an off-chain bear market??? What does that even mean? Check out our latest PRO report to find out: Is Ethereum Scaling?
APPLY
Would you like to write for Web3 Academy? We're currently seeking a writer that is passionate about web3 to join our team & help us create some kick-ass content. If you feel like the right person for the job, apply here!