CeFi vs DeFi Markets | Consensys Review | Soulbound NFTs | Multi-Sig Wallets
Gm DOers!
Welcome back to our Weekly Rollup, the most fitting place to catch up on everything that happened in the world of Web3 during the past week!
This week is all about liquidations… Everybody seems to have been caught off guard and got liquidated during this past week, causing a phenomenal crash in the markets.
Therefore, our word(s) of the week are: MAX PAIN!
While we do not usually want to speak about prices, we have to establish the problem. So, let's be clear about something…
This isn't a Web3 problem. DeFi works just fine, settling billions of dollars without any issue. The problem here is the irresponsible behavior of centralized entities that are acting in the crypto space.
Keep this in mind as we're going through the endless liquidation news below!
P.S: If you want to discuss the current (bloody) situation with fellow entrepreneurs, creators and marketers, you can do so in our Discord. Join!
Let's dig into the news!
You can also watch the episode below or listen on your favorite platform: Spotify | Apple Podcast | YouTube
Web3 News & Highlights
Celsius, who manages $30B, has blocked withdrawals, leaving users with inaccessible funds. Celsius is a lending platform where you can deposit your crypto and get juicy rewards for doing so! Their business model works just like any other bank. They take your money and invest it in some place else, generating yield. Their go-to place for doing this was DeFi. However, Celsius was on the verge of enormous liquidation, risking almost 22,000 BTC to be market sold if the BTC price hit $18,000. They have since deposited more collateral, bringing the liquidation price to around $14,000. They are yet to re-enable withdrawals. Here's a thread about the entire thing!
3 Arrow Capital (3AC), faces insolvency after incurring at least $400 million in liquidations. During the past year and a half, 3AC has been making bets on NFTs, DeFi applications, layer 1 blockchain tokens and cryptocurrency companies. Due to being over leveraged and heavily liquidated, they are now facing insolvency.
In other, more positive news, Stacey Cunningham, former president of the New York Stock Exchange joins Uniswap as an Advisor. Even OG TradFi boomers are converting to DeFi! This gives us a lot of credibility!
Jack Dorsey (founder of Twitter & Square) announces the creation of Web5. As far as we can see it's just Web3 without VCs.
MetaMask announces that a small group of its users could be affected by a bug. This isn't anything major but if you're one of the affected ones, just create another wallet and transfer your funds to fix the issue.
The CoinDesk Consensus Conference took place over three days in Austin, Texas this past week, setting a record of 17.000 attendees. Here are the top 9 takeaways of the conference, covered by our community member, Sam Andrew:

Institutionalization of crypto will be slow, but the desire is emerging
Regulation needs to come from both sides of the political parties
All digital assets will become NFTs
Blockchain has a UX problem, not a scalability problem
Crypto is a new form of commerce
Crypto winter / bear market is here
Macro tone is bearish indicating more pain for high risk assets
US should be bullish on crypto to protect its hegemony
Institutions were present, trying to get a feel of Web3
NFT Innovation
Soulbound tokens are starting to gain popularity. These are non transferable and non-financialized tokens that you cannot sell, transfer or send. While you'd think this is pointless, this is actually something very exciting because you could hold in a single wallet the NFT equivalent of your:

Degree Diplomas
Certificates
Driver license
ID
And everything else that's physical
A global market report on the NFT sector projects a 35% yearly rise of NFTs for the next 5 years. This projection is justified by the increasing influence of celebrities for NFT adoption, the rise in demand for digital artworks and the revolution that NFTs are going to have for the gaming industry. P.S: We are way more bullish on NFTs than a 35% rise.
Opensea has announced its migration to Seaport, a new web3 marketplace protocol designed for safely and efficiently buying and selling NFTs. This will help with better overall user experience and scalability. Other perks include:
Web3 Launches
Jay-Z has teamed up with Twitter founder Jack Dorsey once again for a new financial literacy program called The Bitcoin Academy. The program will be held for residents of the Marcy Houses project in Brooklyn, New York.
Mastercard aims to make the financial interaction with Web3 easier and therefore brings its payments network to the space.

The 1s & 2s
Optimism & Arbitrum are now settling 24% of Ethereum transactions, with share increasing. If we would account for further L2s and Rollups (Polygon, StarkNet etc…), this number would be significantly higher. Can these scaling solutions achieve the majority of transactions settled by the end of the year?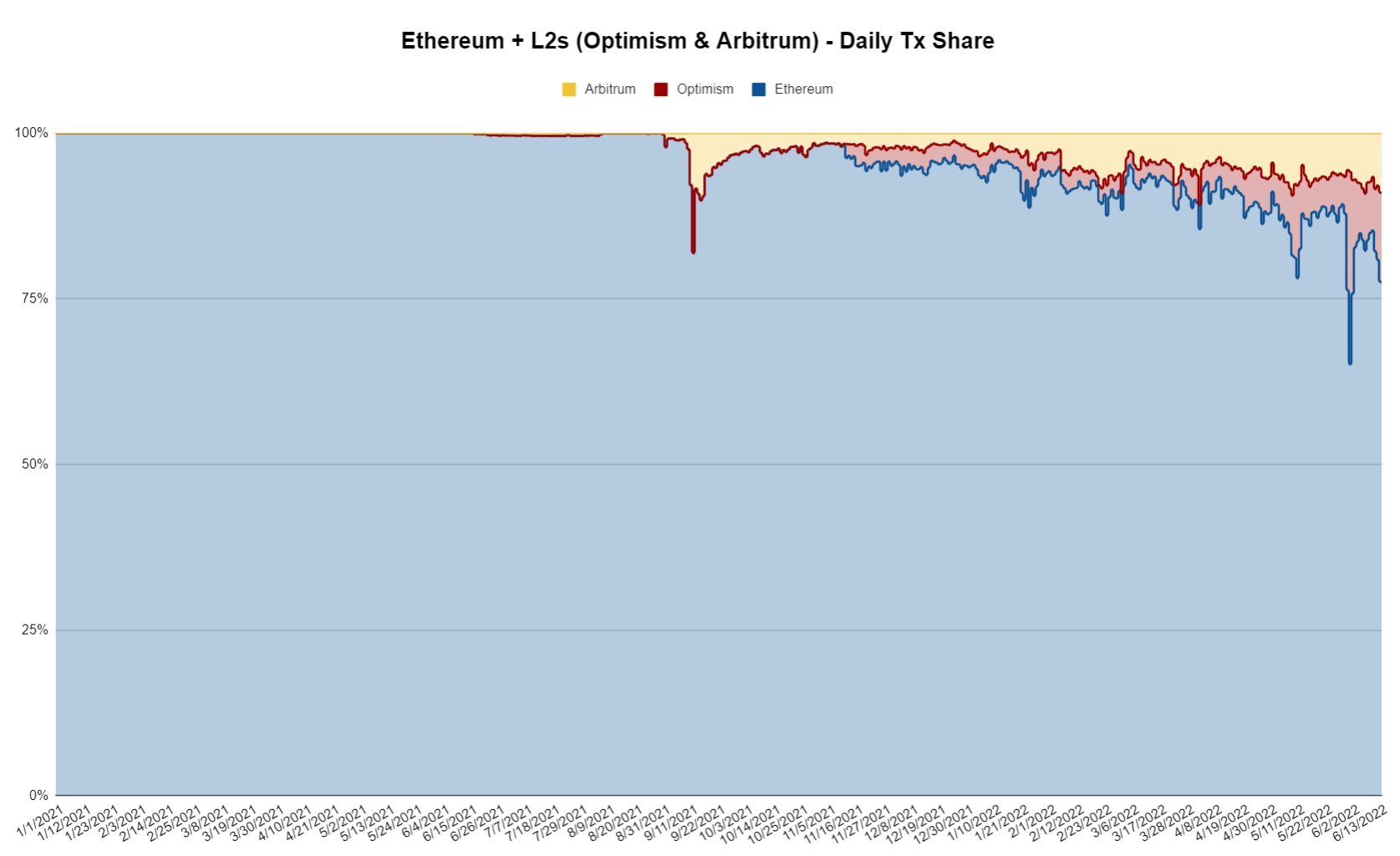 Jobs
Speaking of jobs…
Are you looking to hire top tier talent with experience in Web3?
We just dropped our Web3 DOer talent collective. A group of Devs, Product Managers, Marketers, Community Managers and so much more!
Everyday we add new Web3 enthusiasts with real experience across various industries and skillsets to this talented collective.
Subscribe to our collective and get immediate access to this curated and growing talent pool.
Hiring? Subscribe Here!
Web3 Tool of the Month
Our vote for tool of the month goes to the whole concept of a multi-sig wallet. At Web3 Academy, we acknowledged the fact that every Web3 business needs a multi-sig wallet in order to effectively interact with decentralized applications. While the user experience for creating one is a bumpy road (we used Gnosis Safe), the need for it is still there!
P.S: If anyone is building a platform for creating multi-sig wallets, get in touch with us on Discord. We'd like to help with the UX!
---
Attend our Weekly Community Podcast Discussion
We're hosting a community call in Discord all about building community in Web3 on Monday, June 20th at 7pm EST. Join for a Q&A and discussion to help us all learn how to build stronger communities.
Join the Discussion